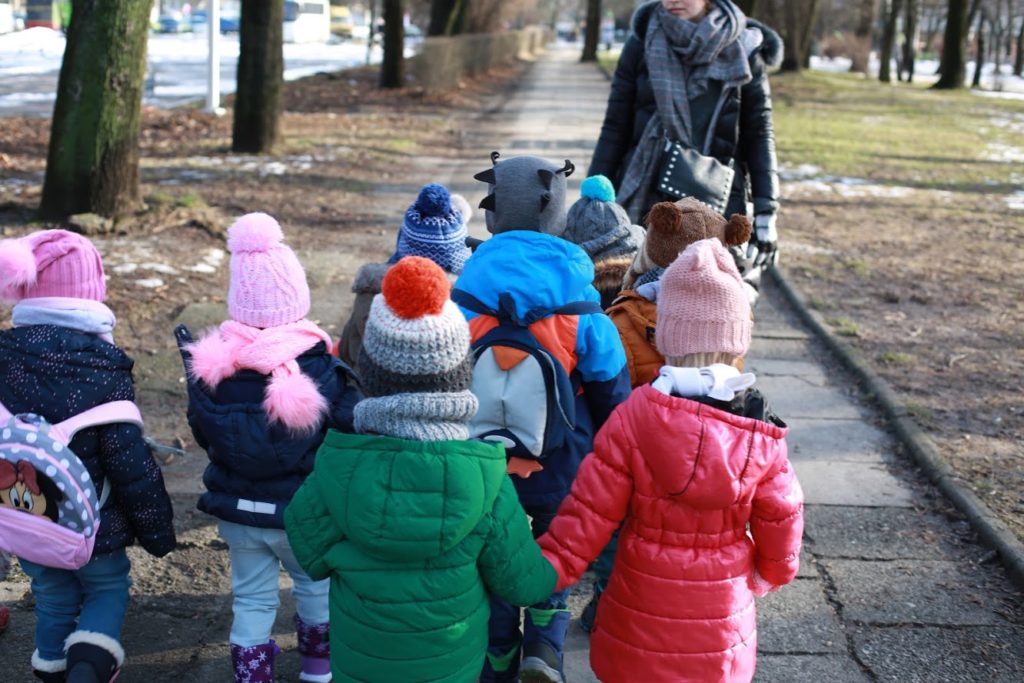 RECOGNIZE THE GROUPS IN OUR KINDERGARTEN
There are four grups of mixed-age children in our kindergarten 3-6 years
Our Montessori group of children aged 3 to 6 and teachers: Agata, Klaudia and Małgorzata. We learn at different bluntly in many different ways and in interaction with others. The environment we have created allows the child use them hands, mind, senses and everything is within arm's reach and it's safe.
Music accompanies us every day. We emphasize that music education influences the development of every child in the physical, mental and intellectual spheres. It has a positive effect on concentration, memory and imagination. Music allows us to understand such concepts as beauty, harmony, joy and sadness.
Creativity is our middle name. We love art and we often refer to it in our actions.
In our opinion the most important thing is closeness. Pre-school education and related upbringing is building a relationship with a child, parent, teacher and the world around us. In this extremely important stage of education, building proper interpersonal relationships is the basis, which will not be possible without building closeness which allows us to get to know ourselves and others. Closeness is characterized by respect, trust and getting to know each other's needs.
To the Emerald group attend children at the age of 3 to 6 years. Children are surrounded by the loving care of teachers: Mrs. Magdalena, Mrs. Małgorzata and Mrs. Karolina. In our group, the most important thing is the children's sense of security and mutual respect. We try to be close to nature - to see the beauty around us. We often go for walks and look at nature. We have our favorite tree - oak under which we often rest. We pay attention to the fact that we are part of the ecosystem. With pleasure we manage and broaden one's knowledge from various fields.
Educational materials are created based on the interests of children so that learning is something pleasant for them.
The Rubin Group currently consists of 24 children aged 3 to 6 and teachers: Mrs. Agnieszka, a psychologist; Mrs. Angelika, pre-school education teacher, oligophrenopedagogue; Mrs. Wen, an English teacher. Together we care for our surroundings, we try to make the materials valuable and interesting for the children, we strive for as much independence as possible, so we do all cleaning and self-service activities together with the children. We raise children based on tolerance, acceptance and respect for others. In our grup we like a lot of exercise, we like to spend as much time as possible on walks, playgrounds or in the woods. We like creativity and creating interesting, unique art works. We are very open to trying new things, we welcome guests with open arms who have something interesting to show or tell us. We like to discover ask questions and experiment.
Every day in the sapphire group, children are warmly welcomed by:
Mrs. Patrycja - group teacher, Mrs. Monika, Mrs. Cemberli - English teacher. Every day we follow the individual needs of the child and adapt the program to the interests of each member of our small community. We try to create a friendly place for everyone - each of us is important, has the right to have his own opinion and express it in the group forum. We want everyone to feel safe and at ease with us. In this group, respect for other people has a special place. We talk a lot about our emotions and we are still working to show, name and recognize them. Together we make decisions about the group and our classroom: we keep tidiness, set rules and nurture relationships with peers. During our stay in kindergarten we develop our independence and inspire ourselves to learn new skills. Together, we experience everyday life, ask questions and look for answers. Thanks to the variety of Montessori materials in our classroom , we have the possibility of a multi-sensory experience of the world. We like to relax on the green grass, during walks and in the playground. We are happy to observe nature around us and living creatures. We look forward to the day when a pet will appear in our room!
The modern and spacious building of the Avalon Montessori Kindergarten provides children with optimized conditions for comprehensive development. The project of the kindergarten was created with the function of the kindergarten in mind: four spacious classroom equipped with the best Montessori materials and clinic where meetings with specialists are held (a speech therapist and psychologist) and a garden with its own greengrocer. To ensure the highest sense of security, the kindergarten building is equipped with video intercoms, each person coming to the kindergarten is verified. The kindergarten has video surveillance.